Fatty_K was born in 1985 in Antwerp, Belgium as Ken Flamant. As a teenager he always wanted to be a drummer. But because of the lack of a drum set he began imitating drum rhythms with his mouth.
As a "beat boxer" he soon got his name known. He won countless beat box battles, three Belgian championships and was noticed by a national TV station called VRT. He started appearing in a television music show where he imitated famous songs by beatboxing them and he toured with the most famous radio station in Belgium. He also performed in countless concerts around his home country with symphonic orchestras, different choirs and performed in a musical tour with a few famous Belgium actresses called "No Nonsense".
After all that "showbizz" he went back to his roots performing with the Dutch hip hop talent Raw Jawz and got back to the underground scene. He entered the championships again and became the official Belgium champ in 2006. The international judges loved his show and unanimously decided that Fatty K was part of the top of the world.
His musical talent has been picked up throughout the years by a lot of different media and organisations. He performed on a lot of Belgium networks like TMF, Jim TV, VRT,…
Besides that he performed in the most prestigious clubs throughout Belgium and Holland, and showcased a lot of festivals and parties.
Since 2010 Fatty_K started collaborating with Dj Dysfunkshunal which resulted in "Man VS Machine", a unique concept where the Human Beatbox goes head to head with the Deejay.This concept has been picked up by promotors real quick which resulted in them playing a few large Belgian festivals (laundry Day, Club Soda, …) and a few unique showcases at BB King's House of Blues and Santos Party House in New York City. After that he became the in-house beatboxer for Urbanice on Radio MnM and participated in Belgium's Got Talent on VTM with his new vocal band "Wait A Minute", where they reached the semi-final.
For 2016 he has prepared a new showcase which will blow you away. He will take you on a musical journey where he will playfully go through all the main genres of music. It will also be the year of his first solo studio release. Fatty_K is an artist who is respected by all generations and leaves a lasting impression everywhere he performs. for the past two summers he has performed at Pukkelpop where he left the crowd stunned and that was just the beginning…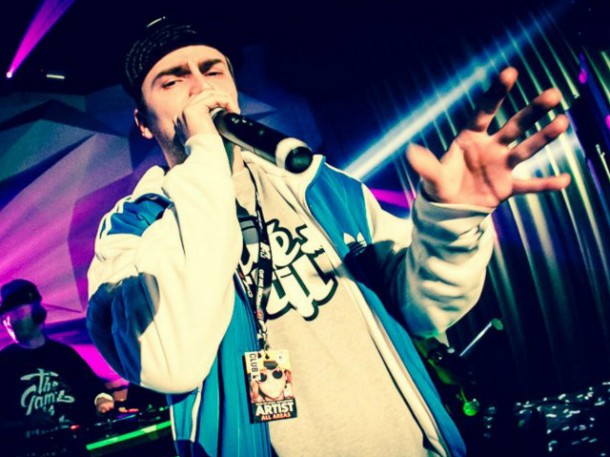 Fatty K werd geboren in 1985 in Antwerpen. Als tiener wilde hij altijd drummer worden, maar omdat hij geen drumstel had begon hij drum ritmes te imiteren met zijn mond.
Als beatboxer kreeg hij reeds snel faam: hij won meerdere battles en werd opgepikt door VRT, het nationale TV-station. Op dit kanaal verscheen hij in Het Swingpaleis, waar hij bekende nummers beatboxte, en hij toerde mee met Radio Donna (nu MnM). Ook trad hij meermaals op met symfonische orkesten en verschillende koren.
Na enkele jaren in de "showbizz" keerde hij terug naar zijn roots om op te treden met hiphop talent Raw Jawz en liet hij van zich horen in de underground scene. Hij begon weer deel te nemen aan kampioenschappen en werd Belgisch kampioen in 2006. De internationale jury was helemaal weg van zijn show en tipte hem als één van de beste ter wereld.
Zijn muzikaal talent werd in de loop der jaren opgepikt door verschillende media en organisaties. Zo was hij te zien op enkele Belgische TV kanalen als TMF, Jim TV en VRT. Naast zijn TV- optredens speelde hij ook in diverse clubs in België en Nederland en was hij ook te zien op festivals en feesten. In 2010 begon hij samen te werken met DJ Dysfunkshunal, wat resulteerde in het innovatieve 'Man vs Machine' concept, waar de beatboxer de DJ uitdaagde en andersom. Deze samenwerking werd ook snel opgepikt en zorgde voor shows op grote Belgische festivals (Laundry Day, Club Soda,…) en enkele unieke showcases in New York (BB King's House of Blues en Santos Party House). Ook verscheen hij ettelijke keren op radio MNM en nam hij deel aan Belgium's Got Talent op TV-zender VTM met zijn band 'Wait a Minute', waarmee hij pas strandde in de halve finale.
Voor 2016 heeft hij alvast een compleet nieuwe showcase voorbereid die je van je sokken zal blazen. Hij zal je meenemen op een muzikale trip waar hij speels alle hedendaagse genres van muziek aan bod laat komen. Dit wordt tevens ook het jaar van zijn studiodebuut plaat. Fatty K is een artiest die door verschillende generaties gerespecteerd wordt en overal waar hij komt een blijvende indruk achterlaat. Zo zette hij de afgelopen twee zomers op Pukkelpop het publiek in de Boiler Room en de Petit Bazar volledig op zijn kop, en dat was nog maar het begin…